Michelin Star Dining in Union Square
The Michelin star is a highly coveted hallmark of fine dining around the world; the vast majority of restaurants receive no stars at all. Each year Michelin awards 0 to 3 stars on the basis of anonymous reviews to restaurants deemed worthy. Of the 72 starred restaurants in New York City this year, we're honored to have four in Union Square. Three additional restaurants were named Michelin Bib Gourmands for being exceptional establishments where patrons can enjoy two courses plus a glass of wine or dessert for $40 or less.
Pro Tip: You can taste dishes from these restaurants in one place at Harvest in the Square, our annual food and wine festival each September that raises funds for Union Square Park.
Gramercy Tavern: One Star
42 E 20th St.
One of America's most beloved restaurants, Gramercy Tavern has welcomed guests to enjoy its contemporary American cuisine, warm hospitality, and unparalleled service for over two decades.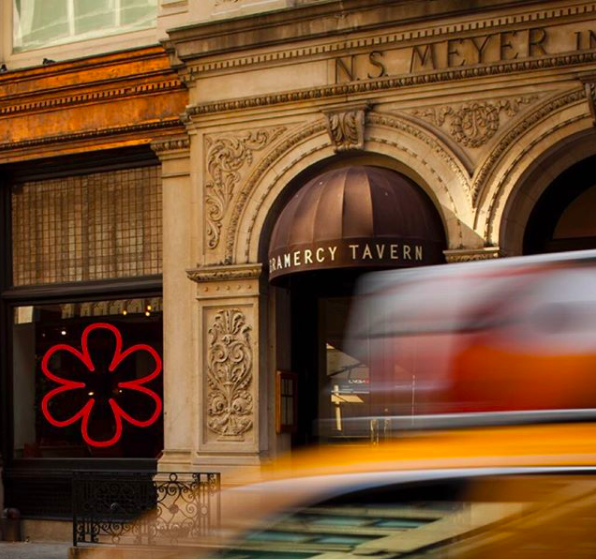 Junoon: One Star
27 W 24th St
The restaurant showcases the finest in Indian cuisine, complimented by an exceptional dining experience. It was the recipient of a prestigious Michelin Star the year it opened and has earned the same coveted award every year since its 2010 debut.
Casa Mono: One Star
52 Irving Place
Casa Mono is a tapas bar-restaurant inspired by the cooking of Spain's Costa Brava. Dishes as varied as plates like Razor Clams a la Plancha and Bone Marrow with Tomato Jam and Pickled Sandía have garnered a cult following.
Gotham Bar & Grill: One Star
12 E 12th St
Since opening it's doors in 1984, Gotham has set out to resemble a downtown restaurant reminiscent of the energy, feel and beauty of a Parisian brasserie. Since 2005 the restaurant has maintained a one star Michelin rating.
The Michelin Bib Gourmands honors restaurants where patrons can enjoy two courses plus a glass of wine or dessert for $40 or less. International director of the Michelin Guide, Michael Ellis, says the Bib Gourmands are "establishments where diners can enjoy quality ingredients, quality cooking and fair prices." Find Union Square's Bibs below.
207 Second Avenue
The restaurant serves a constantly changing menu that draws inspiration from flavors and techniques found worldwide, while staying true to its New York roots. The Ssäm Bar is known for its selection of meats including rotisserie duck, slow roasted pork, and gochu glazed pork ribs. Meanwhile, at dinner, the restaurant serves an inventive menu that is always evolving.
48 E 12th St.
The restaurant brings Naples into the heart of New York for a one-of-a-kind experience: to taste the true Neapolitan pizza. From the flour used for the dough, to natural yeast, to tomatoes, to Buffalo-milk mozzarella from Campania, all ingredients promise to take you straight to Italy!
15 E 17th St.
One of the first Malaysian restaurants to receive a Michelin recommendation in New York, Laut brings the best recipes, dishes and flavors from South East Asia to Manhattan while preserving the flavor profiles of each dish, and maintaining the integrity of each cuisine.