Union Square's First Waste Characterization Study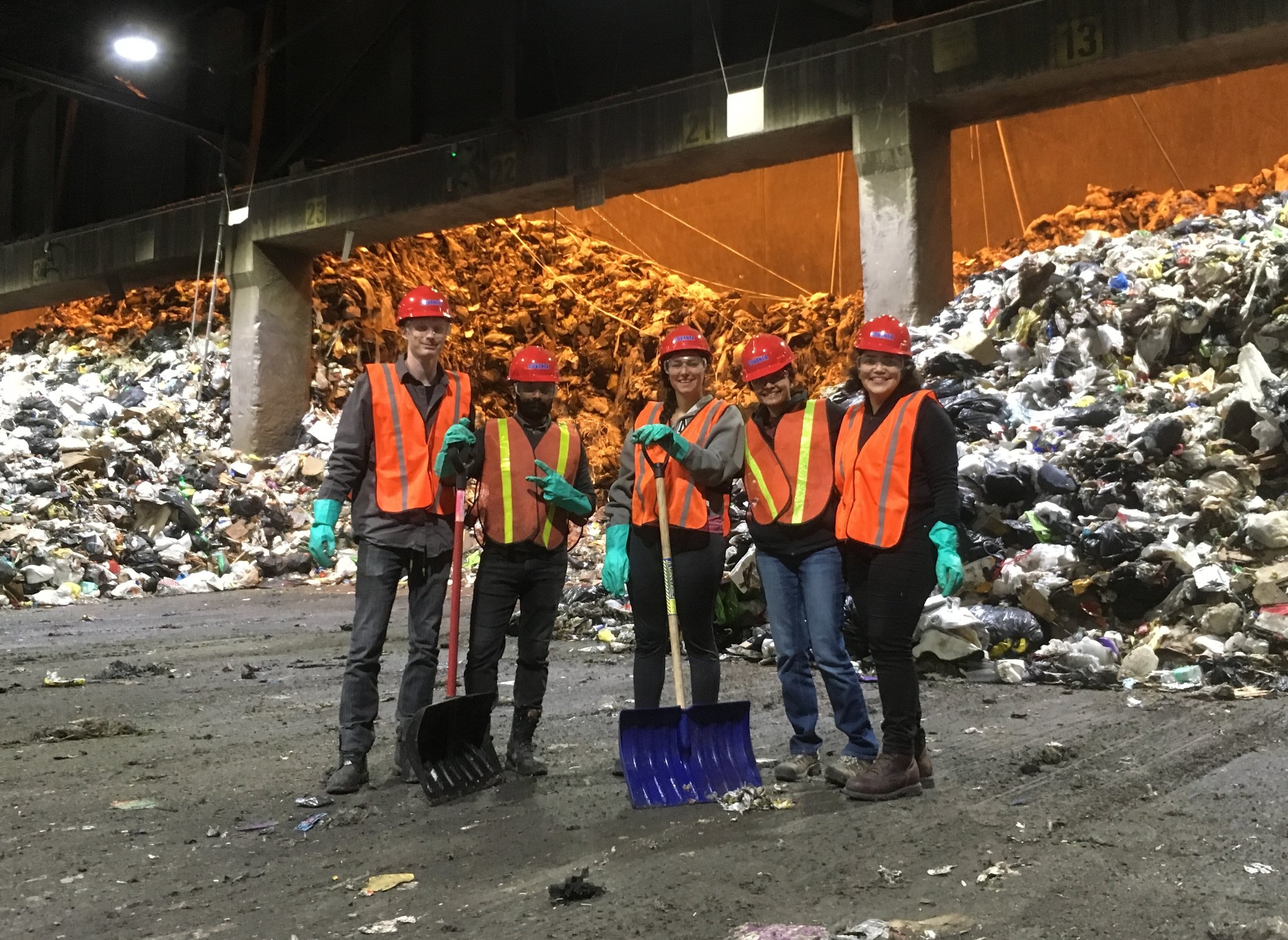 The Union Square Partnership, in conjunction with Columbia University, conducted the first-ever waste characterization study for public waste in Union Square Park and the 14th Street neighborhood. The study will inform future improvements to the district's waste management practices and guide the Partnership in supporting the City in eliminating waste-to-landfill by 2030 ("0x30"). You can find more details in the press release and in the June edition of Crain's.
The de Blasio Administration launched the 0x30 goal in 2015 as part of New York City's sustainability vision included in OneNYC. Achieving this goal depends on active participation by the City's 75 business improvement districts (BIDs), which play an important role in providing supplementary public sanitation services.
"In the same way that BIDs have partnered closely with City agencies to maintain our city's parks and green spaces, create vibrant and secure pedestrian plazas, and support the small business community, Union Square Partnership and other BIDs can play a critical role in realizing the City's zero waste ambitions as we already undertake significant efforts to execute extensive sanitation and waste removal programs," said Jennifer E. Falk, Executive Director of the Union Square Partnership.
"To send zero waste to landfills by 2030, we need to know what's in the waste stream. Once we know what people are throwing out, effective and relevant programs can be created to successfully divert material that's best reused, recycled or otherwise given new life," said New York City Department of Sanitation Commissioner Kathryn Garcia. Recognizing that essential first step to establish a baseline of what's in the waste, Union Square Partnership turned to Columbia University's Earth Institute and Sustainability Management program to study the district's waste.
The Columbia University team sorted and profiled a sample 600 pounds of waste collected from Union Square's public trash bins over a three-day period. Major findings from study include:
Mixed paper – paper bags, printed flyers, newspapers – comprised the largest percentage of Union Square's trash (23%), followed by rigid plastics, such as water bottles and iced coffee cups, (17%), and food scraps (15%).
Given the density of coffee shops and grab-and-go eateries in our district, not surprisingly, the single most reoccurring item was paper coffee cups followed by plastic beverage cups.
Union Square's trash could be reduced by nearly 85% if all of the recyclable (e.g., plastics, glass, aluminum, paper), compostable (e.g., food scraps, yard waste), or recoverable (e.g., textiles, e-waste) waste were responsibly diverted.
From Columbia University's study, the Union Square Partnership can take the research and findings to embark on improving waste management efforts locally. "The 'Trash Talks' waste management project is another example of our Sustainability Management graduate students' applying their analytical and management skills to solve real-world sustainability problems for clients like the Union Square Partnership," said George Sarrinikolaou, Director of the Office of Academic and Research Programs at The Earth Institute at Columbia University. Download the full report here for more details.
Several Union Square eateries are also leading the way, showing what small and medium-sized businesses can do to reduce waste and embed sustainability into their own operations. Breads Bakery, which operates their flagship store in Union Square, is well on its way to diverting 90% of its waste from landfill. Union Square Partnership worked with Breads Bakery to connect with zero waste and food recovery organizations that could help the bakery improve sustainability in their own operations. Breads Bakery successfully minimized their waste through partnerships to donate excess food and composting whatever food cannot be donated. The bakery also recently eliminated most "to-go" bags and is now focused on cutting down on single-use packets.
"We are inspired by businesses like Breads Bakery who show that it's possible to achieve remarkable progress in a relatively short amount of time. We at USP are now focused on helping the wider Union Square business community access the resources, knowledge, and partners to replicate Breads' success", said Monica Munn, Director of Economic Development at the Union Square Partnership.
Union Square Hospitality Group also recently announced they would phase out single-use plastic straws and instead adopt a biodegradable paper-based straw in several of their restaurants and eateries. Other Union Square businesses, such as Cava, Dig Inn, Think Coffee, and Pret a Manager, are focused on reducing waste by offering commercially-compostable packaging, collecting food waste, or allowing customers to bring in their own reusable beverage thermoses.
Union Square has history of firsts when it comes to innovative waste management practices. Union Square was the first BID to pilot solar compacting Big Belly trash receptacles and one of the first Manhattan locations for New York City Department of Sanitation's public space recycling pilot programs in 2007. Today, Union Square Partnership's dedicated team of 22 Clean Team members maintain over 125 street litter baskets, including 10 Big Belly waste compactors in the Park, and clean nearly 30 city blocks. Last year our Clean Team worked diligently to pick up over 178,000 bags of trash – nearly 2 million pounds!
"New York City's 300 neighborhoods are as diverse as its over 8.5 million residents, and the city's Business Improvement Districts are helping to reduce waste by working directly with small businesses and public space," said Gregg Bishop, Commissioner of the New York City Department of Small Business Services. "The Union Square Partnership study is an excellent example of how local BIDs are investing in the individual needs of neighborhoods – and making the city greener and cleaner."
Union Square Partnership hopes this study will be a launching point for creating a more sustainable future for our district, and aims to leverage the study's invaluable insights to shape waste reduction and landfill diversion strategies in the future. "Our ongoing relationships with BIDs, such as the Union Square Partnership, are crucial in helping the city achieve its zero waste goals. The Union Square Partnership has been our long-term partner, and we applaud their commitment to helping the city reach its goals", said Sanitation Commissioner Kathryn Garcia.
The Partnership will embark on a series of campaigns and new initiatives to show what a "zero waste" BID can be, including a business forum connecting Union Square businesses with the waste reduction resources and experts, and pilot programs promoting waste reduction in public spaces. Stay tuned for more details in the coming months!